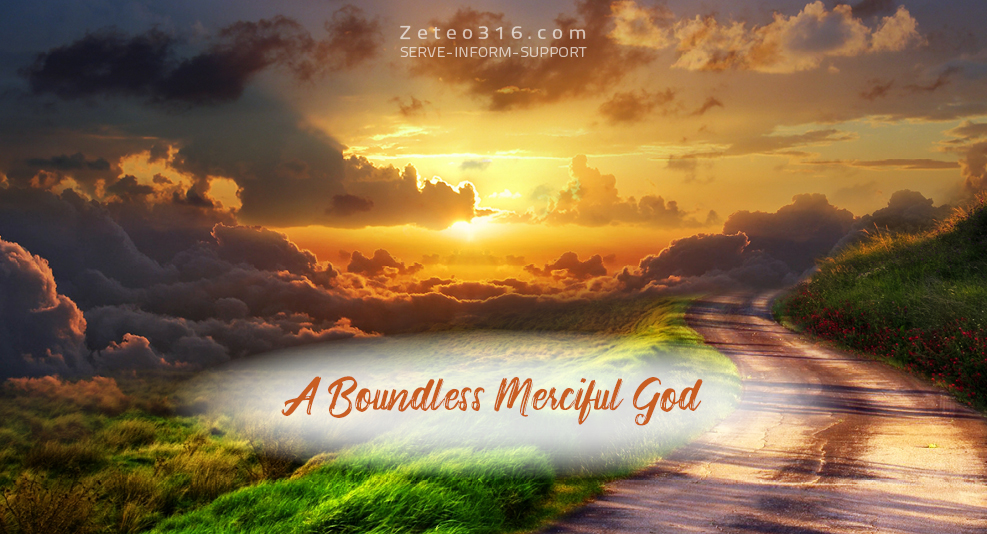 I've been working through George Swinnock's book "The Blessed and Boundless God." In my first entry we talked about how God's center is everywhere, and that His circumference is nowhere. God is infinite. We cannot comprehend this awesome truth because we are finite beings.
But, not only is God Boundless and Infinite, we also worship a Boundless Merciful God.
My life is a testament to that truth. I've often spoken about my wasted years searching in the New Age. My departure from it wasn't a decision I arrived through logical reasoning. I've often attempted and consistently failed to articulate what happened in the course of two weeks prior to my turning back on the life. The best I can come up with was a feeling of a battle waging within me. It was a spiritual warfare for my eternal salvation. While my example was reminiscent of the story of the Prodigal Son, in my case the Father set off to bring him home.
Again, we worship a Boundless Merciful God! George Swinnock wrote that:
Fallen man is the proper object of God's mercy. We are undeserving of the least good, having plunged ourselves into all evil. Mercy is an attribute of God whereby He pities us in our misery. He has "tender mercies" (Ps. 25:6). He is "afflicted" in His people's afflictions (Isa. 63:9). As parents are extremely troubles on account of their children's afflictions, so God "pitieth them that fear Him" (Ps. 103:13). But not only does He pity us in our misery, He relieves us. God's mercy has a hand to supply as well a heart to pity.
One of my favorite Psalms is Psalm 136. In the 26 verses, we are told 26 times that God's "mercy endures forever" (NKJ). The NASB renders it: "For His loving-kindness is everlasting." The ESV: "for his steadfast love endures forever." But it amounts to the same thing.
Here are some verses to consider:
All the paths of the LORD are mercy and truth, To such as keep His covenant and His testimonies. Psalm 25:10
Oh, give thanks to the LORD, for He is good! For His mercy endures forever. Let Israel now say, "His mercy endures forever." Psalm 118:1-2
But God, who is rich in mercy, because of His great love with which He loved us, even when we were dead in trespasses, made us alive together with Christ (by grace you have been saved), and raised us up together, and made us sit together in the heavenly places in Christ Jesus, that in the ages to come He might show the exceeding riches of His grace in His kindness toward us in Christ Jesus. Eph 2:4-7
Personal application:
And forgive us our debts, As we forgive our debtors. Mat 6:12
Then Peter came to Him and said, "Lord, how often shall my brother sin against me, and I forgive him? Up to seven times?" Jesus said to him, "I do not say to you, up to seven times, but up to seventy times seven. Mat 18:21-22
Praise God for His Boundless Mercy!
Sharing is caring!