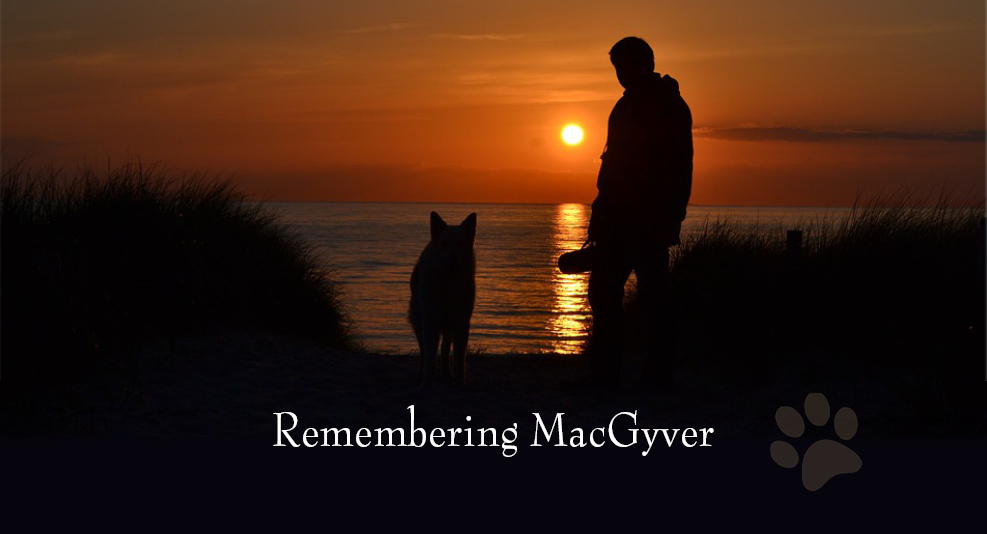 Remembering MacGyver…
No, this isn't about remembering MacGyver – the popular TV series which starred Richard Dean Anderson. MacGyver was my German Shepherd Dog.
The decision to call him MacGyver came well before I met him. I suppose it was because I've always liked the name Mac. The problem was that "Mac" was a popular name for dogs. So I wanted my future pet's name to be a little different. He was going to be called MacGyver. Well, that was the plan. Of course he ended up being called Mac….just like all the other Macs.
Aussies love to shorten names: Gaz for Gary; Kaz for Karen. Sometimes they'll shorten a name and then lengthen it again. Just to confuse you. So you start with Gary – change it to Gaz – and then end up with Gazza. John becomes Johnno. Aussies are strange folk. Mac was never, ever called Macca. I made sure of that.
When I picked Mac up, the breeder fetched him and set him down for a split second. In a flash he scampered off into a large concrete kennel where the dogs were housed at night. We heard a series of snaps and I was promptly informed that he'd set off all the mouse traps. Wasn't his sire called Demolition Man? Oh boy! What had I gotten myself in to!
I was sorry for taking him away from his siblings. But I was a lot sorrier when we got home. The minute I took him into the house he made it his own. Nearly every room was investigated before I could get hold of him. So much for missing his family! I figured he was a social butterfly – happy wherever he was.
Mac grew into a huge dog. He wasn't just big, he was made of iron. One day we were outside playing when he streaked past, just grazing my leg. I limped for two weeks. As big as he was, he was also gentle. One time we came across a napping cat during our walk. It reared up and took a few clawed swipes at him. Instead of biting the cat, Mac boxed it. A gentle smack over the head put it in its place.
Weeks later he was attacked by another cat. It made several swipes at him, finally drawing blood. Mac stood there taking it, and his nose bled all the way home. On our next walk I decided to cross the road when we came to the cat's house. That cat actually crossed over to attack him again. For a while we avoided walking that block altogether.
The irony was that Mac looked so intimidating that some people kept their distance. So we finally had a chat about it. He was a monster of a dog and I could bench press 300 lbs. Why let a cat terrorize us? Together we could take it on. Bullies needed to be confronted.
The cat looked pretty chagrined at seeing us again. Mac looked at me expectantly. There was a pause. No one was around. I let the leash slip from my hand and whispered, "Go for it." He chased it to its front yard where it escaped unharmed. It was never in any danger. I made sure of that. That cat never bothered us again.
Some time earlier a smaller dog had crossed the road to attack Mac. Instead of engaging it in a fight, he put his huge head across the dog's back and held it in place until its owner came out.
My impression of Mac was that he was a big loveable dog who was at home anywhere and with anyone – a doggie socialite. I soon learned that it was only partially true.
At one point my house needed fixing and the fence had to be temporarily removed. So Mac was kenneled for a week. I thought he'd be in Mac-paradise, meeting new doggie friends and people. Yet when he returned home he was visibly underweight. He cried when he saw me, never leaving my side. I hadn't realized it before – all Mac wanted was to be with me.
Sometimes I wouldn't get home from work until after 7:30. That was when I'd feed him. Given he was only fed once a day, he was famished by then. Even so, when I opened the back door to give him his food, he wanted to come inside to be with me first. Dinner always waited until later.
One particular Sunday my brother and his family visited with two girls who were foreign exchange students. They all went out into the yard to play with him. Mac loved girls especially, and he loved my niece and nephew – he was in Mac-heaven. Yet when I walked outside he dropped them like a hot potato to be with me.
On winter nights when he spent more time inside, his favorite spot was sleeping in front of the heater. My mother noted how he would regularly lift his head to look at me. She once remarked, "That dog adores you." Even when he was in his second best spot – lying on the cool kitchen tiles – he'd often get up to see where I was.
Our best times were during our prayer-walks. There was one quiet section along a railway track leading to a hill overlooking the city of Melbourne. God often graced us with some spectacular sunset vistas – red, gold, blue and purple tinges splashed across the sky as the sun dropped into the silent west. I often felt God's touch during those times.
I slowly began to realize that Mac had been teaching me how I should be towards the Lord. I didn't deserve Mac's adoration yet he freely gave it. I don't deserve God's love yet He freely gives it. The Lord deserved my adoration yet I was often wayward.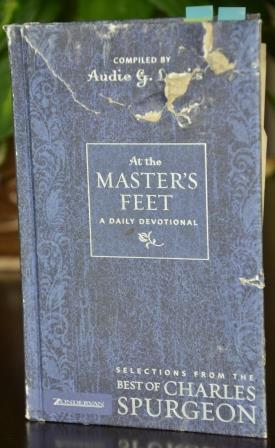 Something odd happened months before he passed away. I'd gone into another room and left the book I was reading lying on the couch. When I returned it was lying on the floor. Mac had picked it up and left bite marks across the top of the front hard cover. He was promptly punished.
Despite the fact that his sire was Demolition Man and I'd expected the worst, Mac was always respectful of the house. Books were routinely left lying around and he never touched them. Well…he did sniff my Ryrie Study Bible once, leaving an imprint on its edge with his cold, wet nose.
It was only after he'd gone that the significance of the incident hit me. The book he'd bitten was a daily devotional selected from the best of Charles Spurgeon. It was called At the Master's Feet. He'd left me a reminder of his legacy.
People will come to their own conclusions about coincidences. Yet all along God was using Mac to teach me devotion and worship. I firmly believe Mac's parting gift was God's sovereign providence. To think that I'd reprimanded him for it!
At The Master's Feet still sits on my desk. Although I don't look at it as often as I should, I'll never forget Mac and what he taught me.
We have a wonderful new friend now – Sammy the Golden Retriever. He, also, is a picture of devotion. Like Mac did with me, Sammy worships my wife.
God is always teaching us…if only we will listen.
And you shall love the LORD your God with all your heart, with all your soul, with all your mind, and with all your strength. This is the first commandment. Mark 12:30
Praise the LORD, all you Gentiles! Laud Him, all you peoples! For His merciful kindness is great toward us, and the truth of the LORD endures forever. Praise the LORD! Psalm 117:1-2
Praise the Lord!
Further reading:
Sharing is caring!