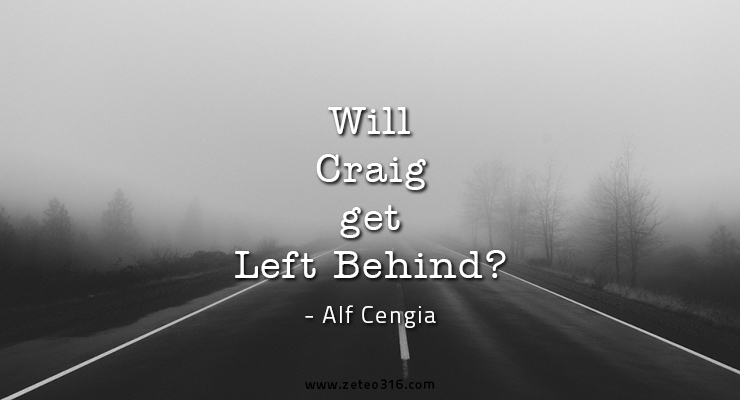 Note: The article "Will Craig get Left Behind" first appeared on the Omega Letter website.
In anticipation of the forthcoming Left Behind movie remake, Christian apologist William Lane Craig threw his hat into the ring and proffered his opinion on the rapture. It's unclear to me if he was asked for his view or whether he felt compelled to offer it.
Whatever the case, the Christian Post cites him as declaring:
"This doctrine is not really found in the book of Revelation. If you read the book of Revelation, you won't find any mention of the rapture there…"
Craig believes the theory has arisen from a misinterpretation of Paul's Thessalonians Epistles. He identifies the culprits to be John Darby, the Scofield Bible and institutions such as Dallas Theological Seminary. Moreover, he states that:
"A good many Bible-believing Christians absorbed this view as their mother's milk as it were and have never thought to question its Biblical credentials." (Emphasis mine)
Did any of that sound vaguely familiar? Craig has poisoned the well. This type of fallacy is a tactic he would never allow his debate opponents to employ. Pretribulationists have heard it all before.
Speaking of credentials, Dr. Craig's qualifications are very impressive and well-earned. He is known as the Christian philosopher who successfully debates atheists, and Richard Dawkins' worst nightmare. Given all that, Christians will take notice when he offers any opinion.
Some Christians are already chuffed that he's taken a swipe at the Left Behind movie. Rest assured that there will be more of the same. They don't want to believe that Christ could come at any time for His church. I find that mindset bewildering.
Dr. Craig is somewhat ambiguous in his eschatology. I spent some time in the forums on his Reasonable Faith Website. One thread noted that he doesn't believe in any rapture at all. But he does believe in the Second Coming. Is he amillennial?
If such is the case he needs to insert his understanding over large face-value portions of the Bible.
As for the rapture not being mentioned; as a theologian Craig understands that the Trinity isn't mentioned in a single verse either. He (rightly) examines the textual connections in his book Philosophical Foundations for a Christian Worldview (pp 575-605).
Similarly, his Molinist view (like Kenneth Keathley's Salvation & Sovereignty) isn't derived from a single verse or word in isolation. It is a deduction derived from a number of passages. It is noteworthy that many Reformed Calvinists disagree with him based on the same texts.
As exemplary as his defense of the Resurrection was in his book Reasonable Faith, I came across a remark which bothered me. He claims that, unlike forgeries, the Gospels do not try to suppress apparent discrepancies. And this argues for authenticity (p 334). We would note that Robert L. Thomas and Stanley N. Gundry had no problems harmonizing the Gospel accounts in their book.
In a response to a query on inerrancy on his website, Craig writes:
"…the case for Jesus' belief that the Old Testament Scriptures are inerrant is much weaker."
Robert L. Thomas notes that of the 404 verses in Revelation, 278 allude to O.T. Scriptures (Revelation 1-7 p40). Hence much of Revelation depends on that same O.T.
Craig digs himself further into the mire of assumptions when discussing whether Jesus was a failed eschatological prophet. He identifies a number of perceived problems relating to Jesus' statements about His Second Coming. And then he blames the obscurity of the Gospel accounts:
"When we remember that the Gospels do not give us a tape recording of Jesus' words, that the Gospels are written in Greek, whereas Jesus probably spoke most of the time in Aramaic, that the Gospel writers didn't even have the device of quotation marks to distinguish direct and indirect speech, we can already see that we don't have a verbatim transcript of what Jesus said."
Yet Jesus held the disciples accountable for a face-value understanding of what the Old Testament spoke about Him (Luke 24:25-27). They didn't need PhDs in theology or cautions about possible inerrancies. When Paul admonished Timothy regarding the profitability of all Scripture (1 Tim 3:16), he was referring to the O.T. Likewise the Bereans (Acts 17:11). That's all they had at the time.
Interspersed throughout the O.T. are kingdom teachings and promises that the Jewish disciples related to. These were affirmed by Christ over the forty days before His ascension (Acts 1:3-7). However they do not align with Craig's 16th – 17th century Covenant Theology. They must be re-interpreted to suit the framework of his newer tradition.
He misses the point of Matt 10:23. The disciples didn't succeed going through all the cities of Israel before the return of the Son of Man because these cities rejected the message at that time. Not because the Gospel account is obscure. There are also no kingdom revelation timing issues in Mark 8:38, 9:1. Those verses relate to the following transfiguration (Mark 9:2-7). The same sequence occurs in Matt 16:27-28; 17:1-5 and Luke 9:27-35. There were some disciples present who saw a vision of the Son of man coming in His glory.
Neither are there such difficulties in Luke 21:36 and the meaning of the term "this generation" that it warrants appealing to confusion. Arnold Fruchtenbaum (The Footsteps of the Messiah) and Alva J. McClain (The Greatness of the Kingdom) offer plausible explanations that do not violate the inerrancy of the accounts.
His treatment of the Olivet Discourse and the Thessalonians Epistles is superficial. Pretribulationists note that the peaceful circumstances surrounding Matt 24:36-39 and 1 Thess 5:2-3 can hardly be analogous to the chaos leading up to Rev 19:11. This implies more than one coming of the Lord. Furthermore, a plain sense understanding of 1Thess 4:17 demands a rapture, even if its timing may not be explicit.
The irony is that Dr. Craig depends upon these same disciples and texts for his doctrinal beliefs and defense of the faith. Peter, John, James, Luke, Paul, Jude and the author of Hebrews had no language barrier issues in getting their Epistles understood. Other scholars note that they were likely multi-lingual.
Craig's flexibility with Scripture is seen in his approach to Genesis. He declares that Young Earth Creationists are an embarrassment. He appeals to a Genesis creation genre, which is what amillennialists etc are often forced to do with prophetic books. In his view, the creation account is not to be taken literally, and Y.E.C. lacks scientific credibility.
In one video discussing creation and animal death, he states that perhaps God sees this ecosystem, with its herbivores and predators, as a beautiful thing. Yet a "prima facie" reading of Isaiah 65:25 and Revelation 21:4 suggests that death was never part of God's ultimate plan. Notably, Jonathan Sarfati takes Craig's "intellectually dishonest attack on biblical creationists" to task. It's a worthwhile read.
This column isn't meant to be a personal attack on Dr. Craig. He should be lauded for his defense of the faith. I've profited from his efforts. But it's a pity his intellectual and doctrinal bias misses so many aspects of what Scripture says of the End Times.
What we currently see occurring in the Middle East has global consequences, and the Bible predicted it. Those of us who take prophetic Scripture at face-value are not surprised at these events, or of the things still to come.
As for me, I wasn't brought up on the mother's milk of the pretribulational rapture, never attended a Dispensational seminary, nor own a Scofield Bible. In fact I initially resisted the doctrine. So Craig paints with a very broad brush.
Yet, happily, despite his antagonism to the doctrine, William Lane Craig will not be Left Behind if the rapture occurs in our lifetime.
Further reading:
Christ's Return in One Generation?
Sharing is caring!