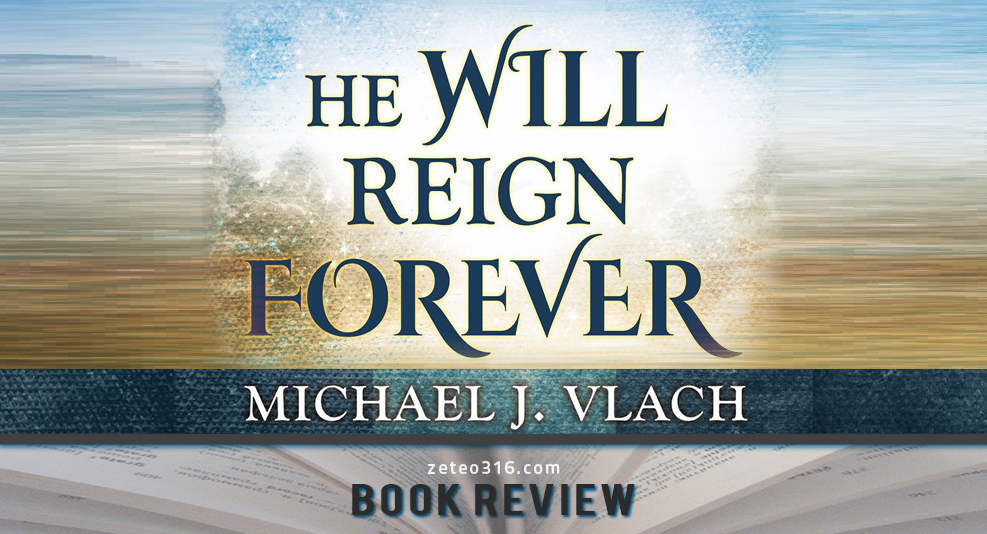 This is a review of the book "He Will Reign Forever – A Biblical Theology of the Kingdom of God" by Dr. Michael Vlach. It is published by Lampion Press (Hardcover 638 pages).
Read Dr. Vlach's Bio HERE. Visit his blog. Among other books, he has also written "Has the Church Replaced Israel?"
From John MacArthur's Foreword to "He Will Reign Forever":
As Dr. Michael Vlach clearly shows in this book, a very powerful argument can be made that the kingdom of God is the central and unifying theme of Scripture, and it is the climatic fulfillment of the story of redemption. In his words, the kingdom of God is both "the grand theme of Scripture and the solution for all that is wrong."
Michael Vlach's "He Will Reign Forever" is a daunting book to review properly. First, this is such a grand biblical subject. Secondly, I read "He Will Reign Forever" after reading Alva J. McClain's outstanding The Greatness of the Kingdom, for the second time.
How do these two books compare? Is any comparison even fair considering the long span of time between their publications? I have a very high regard for McClain's book. Yet I loved "He Will Reign Forever" as well. I feel compelled to touch upon some of the contrasts.
Because the subject of both books is the Kingdom of God, there are obvious overlaps. However there are also differences in narrative style. McClain came across as more pastoral. He also tends to use more words to express points. The more modern reader, who is used to sound-bite information, may be tempted to skip over areas.
On the other hand, Dr. Vlach has the gift of delivering a wealth of information with an economy of words, while still maintaining clarity. Because the subject is so rich and extensively represented in Scripture, Vlach supplies details not always covered by TGotK. Considering his book is over 600 pages, that's a lot of data for a reader to digest. It isn't light reading.
Even so, the book left me wanting more. This isn't a criticism but a credit to its engaging style. The footnotes and Bibliography are helpful to those who want to do further research. One small downside of "He Will Reign Forever" is the narrow side margins. I would have preferred more room to make notes.
Both books touch upon the subject of hermeneutics-interpretation. McClain probably spends more time on it. McClain also briefly discusses the rapture and imminence in the New Testament sections, whereas Dr. Vlach doesn't.
What Mike Vlach's book does, very well in my opinion, is bring the reader up to much-needed speed. Dr. Vlach responds to some current issues introduced by Progressive Dispensationalism – such as the Davidic Covenant (chapter 38). He also interacts with modern amillennial scholars. There are also some surprising tidbits of information I hadn't encountered before.
I looked forward to the chapter on Hebrews and wasn't disappointed. The chapters on Daniel, and especially the Psalms, could have been longer for my liking. But that's because of personal interest in those particular books. I've been spending much time reading the Psalms and appreciate their richness regarding future kingdom promises. But, realistically, such a project would have made the book awkwardly ponderous in those areas.
Another important favorite was chapter 37: The Necessity of A Coming Earthly Kingdom. Have you ever wondered why there will be a future millennium? Why do we pray "Your Kingdom come"? How does Israel fit into the equation? What are some of the contingencies to Christ's premillennial return? How will this affect the nations, and Israel's relationship to them? "Read Michael Vlach's book.
More astute reviewers will likely make better observations to this review. Which of the two books would I prefer? Well, they're like a person's legs – both support the body and complement each other. A clumsy analogy perhaps, but you get my point.
Hopefully D. Vlach has more writing projects scheduled for the future. This is another of those books I'll keep close by and refer to often. He's done a great service to those interested in the subject of God's Kingdom. This book is a must read, even if you've read The Greatness of the Kingdom.
Note: The book is divided into Four Parts (each containing appropriate topical chapters):
Part One: Introduction to the Kingdom Program
Part Two: The Kingdom Program in the Old Testament
Part Three: The Kingdom Program in the New Testament
Part Four: Theological Issues and the Kingdom Program
An excerpt of the book is available for viewing at Lampion Press. Just click the area where you see comments by Walter Kaiser, Mark Bailey and Paige Patterson.
Purchase He Will Reign Forever !
Disclosure: This link is an affiliate link meaning, 
at no additional cost to you
, we may get a commission if you make a purchase. Thanks for your support in this way!

Read our Full Disclosure policy here.
Sharing is caring!